Rich in wildlife, generous in all its natural resources, the Danube region provides us with a unique plate of nutritious ingredients.
Our super tasty dog and cat food is not only inspired by wilderness but also sourced from there. Ingredients like game meat, including venison, pheasant and rabbit meat, are processed and prepared in our unique "Danube Petfoods" kitchen.
NATURE HAS PREPARED IT.
WE'VE JUST WRAPPED IT UP.
Thousand-year-old woods and other natural habitats of the Danube region enable wildlife to flourish, thus creating this area one of the most lavish in Europe.

Humans have been using these nutritional treasures for centuries. Famous for its long hunting tradition, this region provides us with fresh and the finest game meat ingredients.
Our story is quite simple: 62%–70% of Wildfull is made of animal ingredients, and the rest consists of pure vegetables: peas, carrots, pumpkins, apples, and herbs.

Rabbit meat, venison, wild boar meat and salmon ensure that your pet gets most of the healthiest natural food ingredients– nutritious, mighty proteins and fresh, tasty fats.
WILDFULL IS APPROPRIATE. BIOLOGICALLY.
What does this mean?

It means that our food is produced to fulfill both the natural and nutritional needs of dogs and cats – but that is not all. Wildfull tries to recreate nature's greatest act – the act of creation – and to reproduce its wild beauty and taste.

Our pets should eat what animals have been eating for thousands of years. They shouldn't consume ingredients with low nutritional values, quite the contrary – juicy meat should be the most important ingredient of their food. And that is why venison, rabbit or pheasant meat is added in large quantities – we wanted to gift your pet with the taste of its natural, thousand-year-old habit of prey catching.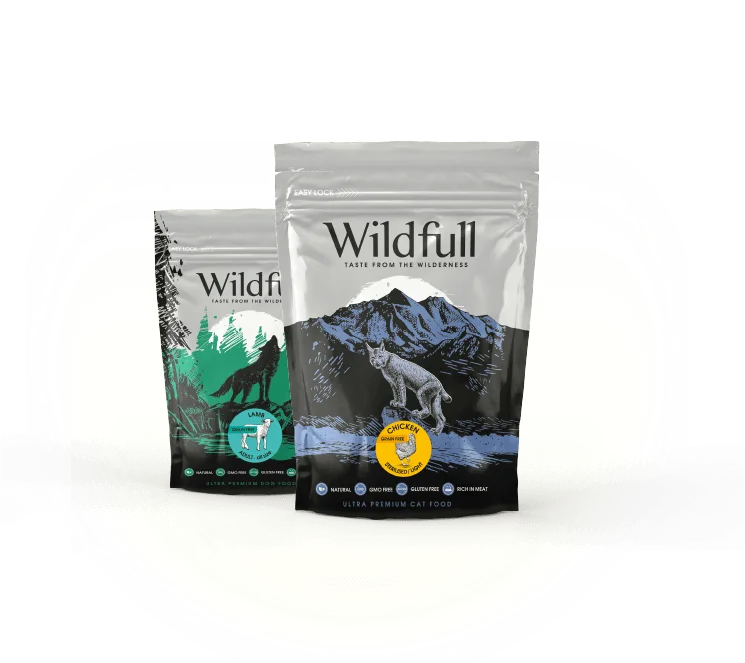 In nature, you will never find things like GMO ingredients, pure gluten or artificial colors and aromas, and therefore you will not find them in Wildfull either.

To respect nature means not to intervene where unnecessary – it means to follow its unique ways and rely on its superb tools.

In other words, it means to borrow from nature just so that we could give back to it. One way to do it is through healthier pets that are fed with our natural food.