is a complete dry dog food and it contains all the nutrients required for puppies and junior dogs of small breeds.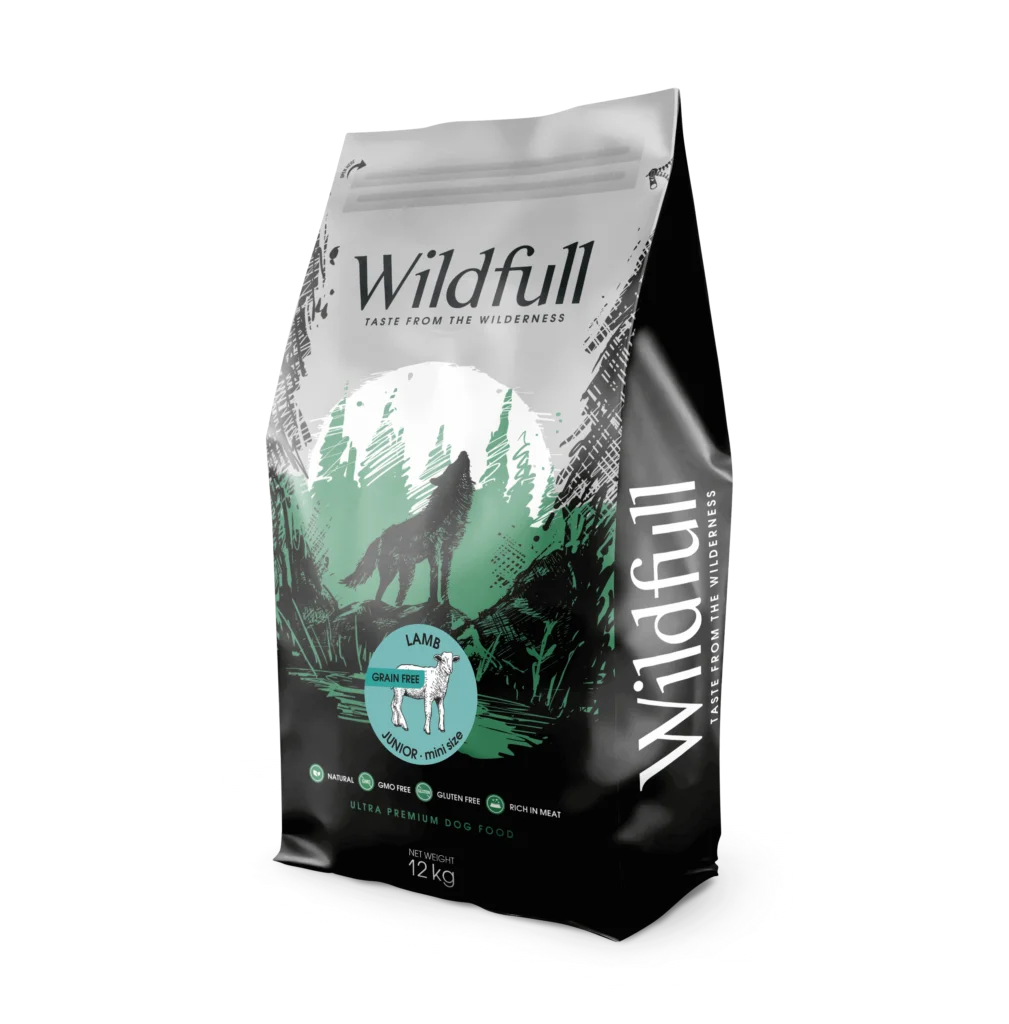 INGREDIENTS:
dehydrated lamb meat (34%), dehydrated potatoes, beef fat (15%),lamb liver (9%), dehydrated beef meat (6%), yellow peas, green peas, dried pumpkin (2%), dried carrot (1,2%), flax seed, chicory extract, yucca, beta glucans.
ANALYTICAL CONTENT:
Crude protein 29,4%, Crude fat 17,3%, Crude fiber 3,2%, Crude ash 7,9%, Calcium 1,1%, Phosphorus 0,85%, Sodium 0,15%, Moisture max.10%, Metabolizable energy: 4190 kcal/kg
VITAMINS AND MINERALS (per kg):
Vitamin A 18000 IU, Vitamin D3 1800IU, Vitamin E 180 mg, Vitamin B1 5,3 mg, Vitamin B2 8,5 mg, Vitamin B6 7,2 mg, Vitamin B12 0,07 mg, Niacin 45 mg, Pantothenic acid 17 mg, Folic acid 0,70 mg,Biotin 0,42 mg, Vitamin C 180 mg, Iodine 4 mg, Selenium 0,35 mg, Iron 110 mg, Copper 13 mg, Zinc 130 mg, Manganese 13mg, Choline chloride1900 mg. Antioxidants: tocopherol rich extracts from plant oils.
INSTRUCTIONS FOR USE:
Serve the food dry. After the introduction period, feed your puppy daily quantities according to the chart. Recommended daily portion is only a guideline. Amount of the daily meal depends on the condition of the puppy, as well as the season. If the puppy is overweight, reduce daily portions by 10%. If the puppy is underweight, increase daily portion by 10%. Clean, fresh water should always be available. Store in a cool and dark place.