Venison is one of the most genuine meats on the market as there are no farms and the animals live in the wild. It has a high content of easily digestible proteins, omega 3 fatty acids, zinc and iron. Zinc is useful for fighting infections and iron for restoring energy. Is a complete dry cat food and it contains all the nutrients required for adult cats of all breeds.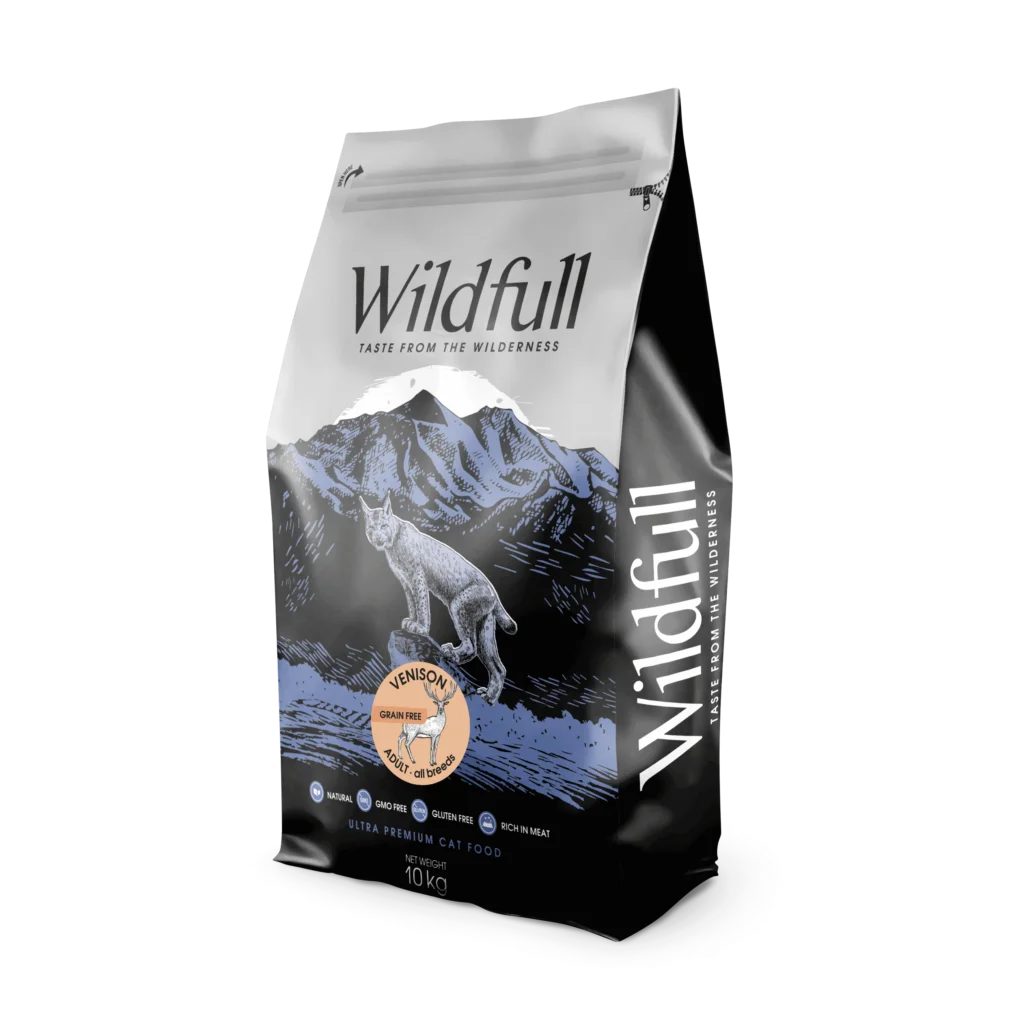 INGREDIENTS:
dehydrated venison meat (34%), sweet potatoes, dried potatoes, beef fat (13%), dehydrated lamb meat (6%), lamb liver (5%), dried pumpkin, dehydrated lamb liver (2%), dried carrot (1,2%), flax seed, chicory extract, beta glucans, taurine.
ANALYTICAL CONTENT:
Crude protein 35%, Crude fat 15%, Crude fiber 3,2%, Crude ash 9,5%, Calcium 1,1%, Phosphorus 0,85%, Sodium 0,15%, Moisture max. 10%, Metabolizable energy: 3830 kcal/kg.
VITAMINS AND MINERALS (per kg):
Vitamin A 20000 IU, Vitamin D3 2000 IU, Vitamin E 200 mg, Vitamin B1 6 mg, Vitamin B2 10 mg, Vitamin B6 8 mg, Vitamin B12 0,08 mg, Niacin 50 mg, Pantothenic acid 20 mg, Folic acid 0,8 mg, Biotin 0,5 mg, Vitamin C 200 mg, Iodine 5 mg, Selenium 0,44 mg, Iron 120 mg, Copper 15 mg, Zinc 150 mg, Manganese 15 mg, Taurine 5000mg, Choline chloride 2160 mg.
INSTRUCTIONS FOR USE:
Serve the food dry. After the introduction period, feed your cat daily quantities according to the cat's weight on the chart. Recommended daily portion is only a guideline. Amount of the daily meal depends on the condition and age of the cat, as well as the season. If the cat is overweight, reduce daily portions by 10%. If the cat is underweight, increase daily portion by 10%. Clean, fresh water should always be available. Store in a cool and dark place.